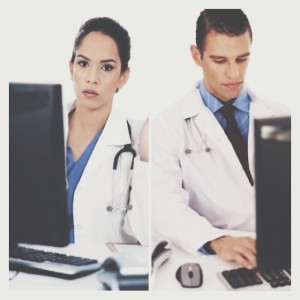 Last month, 3,343 eligible physicians were paid an average of $15,673 through the Medicaid EHR Incentive Program. Physicians attesting for adoption, implementation, or an upgrade (AIU) of their EHR system made up slightly more than half of this group and, on average, received a larger amount ($21,028) than those attesting for meaningful use ($8,733). This data comes from the latest Medicaid Monthly EHR Incentive Payment Report for July 2013 by the CMS.
The Medicaid EHR Incentive Program, unlike it's Medicare counterpart which is federally run, is voluntarily offered by each state or territory. The Medicaid incentive program will be open for participation until 2016 and the incentive payments for eligible professionals are paid over 6 years for a maximum of $63,750. The last year to begin participation and to avoid reimbursement penalties for the Medicare program is next year, 2014. While the Medicare program will make its last incentive payments in 2016, the Medicaid program will offer payments over 6 years starting from the year of registration and first payment (e.g. if you register in 2014, you will be eligible for incentive payments until 2019).
Hawaii will launch it's Medicaid EHR Incentive Program next month, in September 2013, and will be the second to last state to begin the program. As of August 30, 2013 the dates of the first incentive payment distribution and collection of meaningful use attestations has not yet been specified. Hawaii's Department of Human Services Med-Quest Division website provides a brief background about the program and promises upcoming details, which we will provide updates for on Hawaii EHR as they come. In the meantime, as you prepare to register and attest, take a look at the Alaska Provider Outreach Page for their State Medicaid EHR Incentive Program here. As the first state to launch the Medicaid EHR Incentive Program (in January 2011) and a nationally recognized leader in advancing the use of health information services, Alaska's Provider Outreach Page provides a great guide and glimpse into the registration and attestation process.